The Tour kicks off tomorrow, July 4th with the individual time trial in Utrech. Here's a list of some key Tour de France resources, the route, the stages, who and where to watch online.
Tour de France Route Map and Stages
Get a quick overview of the route of the 2015 Tour de France and a breakdown of the TdF Stages
Where to Watch the Tour de France Live Online
There are places you can watch the tour online streaming for free, but I don't trust them. In my experience they're slow, loaded with ads, ask you to download dodgy plugins, or worse.
For $29 you can get full access to the whole tour… watch it live, replays, highlights, interviews and more on NBCSports.com
http://tourdefrance.nbcsports.com/
The Story of the Tour de France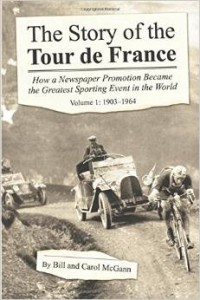 The Story of the Tour de France is a rare gem of a book in a crowded category. It grabs you from the start, electrifies and keeps you immersed in the powerful drama that is the Tour.
"Drenched in rich detail." -Paul S
"As soon as I began reading this book I was hooked!" -John W
The Story of the Tour de France
The 2015 Tour de France Teams
http://velonews.competitor.com/2015/07/news/preliminary-start-list-2015-tour-de-france_375043
Who's Got a Shot at the Tour Podium?
We all have our favorites, and Contador is certainly a proven contender, but who else will have a target on their backs? Here's the riders to watch… and who will be watched closely in the peleton.
Top Contenders for the 2015 Tour de France
Last Minute Tour Preparation
Who's working feverishly at this late hour… and will be for the entire tour? The mechanics of course!
http://www.cyclingnews.com/features/mechanical-storm-before-the-tour-de-france/
Track Tour Riders on Strava
Ten Tour Riders to Follow on Strava
http://www.cyclingweekly.co.uk/racing/tour-de-france/10-riders-to-follow-on-strava-during-the-tour-de-france-180285
Want to Take Part in the Tour?
That's all very well I hear you say, but I'm a doer not an onlooker. I hear ya. You need to head on over to VeloGames.com and check out
Velo Games Fantasy Tour de France
Recommended: The Story of the Tour de France Vol 2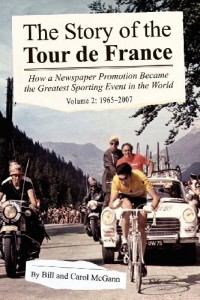 The Story of the Tour de France Volume 2 covers the period from 1965 to 2007, with even more drama and excitement.
"Volume 2 is even better; more robust and with greater detail; and it is the best piece on the world's greatest sporting event ever." – Paul S
The Story of the Tour de France Volume 2
Enjoy the Tour!