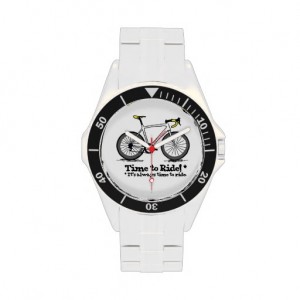 You know cyclists… they only ever have one thing on their minds. The bike. They wake up thinking about it, they daydream about it, and they go to sleep dreaming about it. Cycling consumes them, every day, every hour, it's on their minds the whole time.
And when they're on the bike they're thinking about time… how much time it will take to finish the ride, how many seconds to the group ahead, how many minutes is the group behind… and so on.
Well now you can get the perfect gift for the cyclist in your life, the watch that reminds him of his passion, and lets him know the time.
Better… this watch is a classic, stainless steel, watch of quality, with a touch of whimsy.
This watch is not for everyone. First and foremost it is for a cyclist, a man that understands and treasures the meaning and heritage of cycling. But more than that, it is for a man of distinguished taste and class, who realizes that though time is important, timelessness is more so.
This timeless classic, radiates the soul of cycling; both the sheer childlike joy of riding a bicycle, combined with the steel will that the cyclist must possess.
This is the gift that your cyclist will love you for, every time he glances at its face.