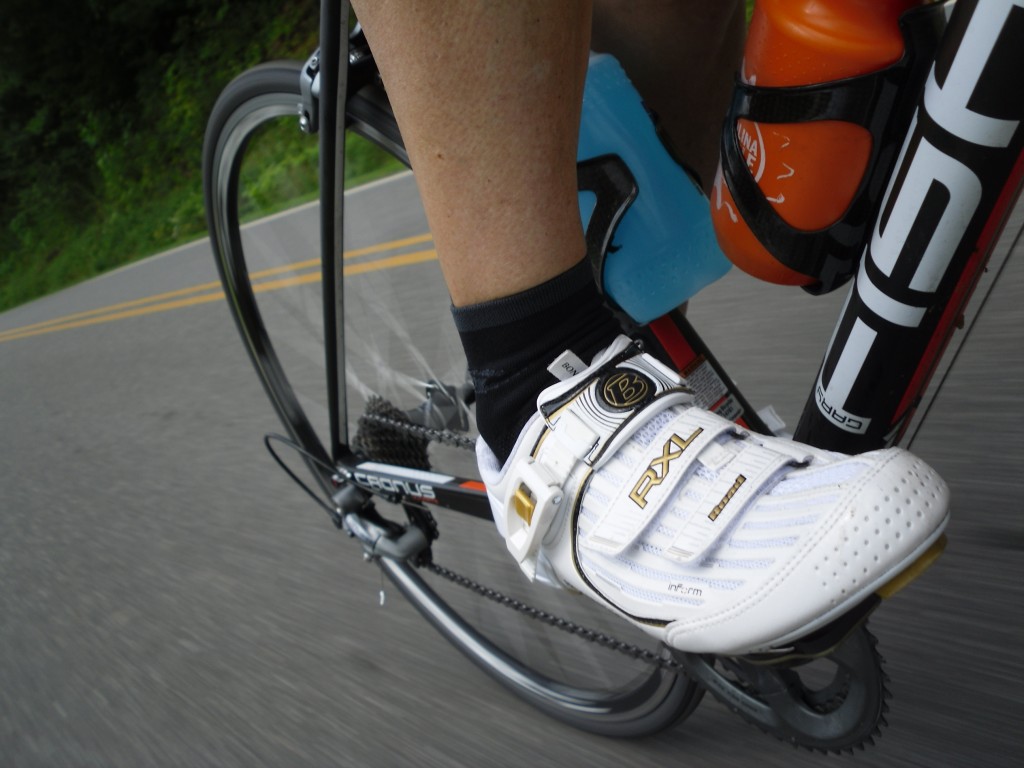 The Bontrager RXL shoes arrived in a classy, understated box. I tried them on and they fit nicely, a little more roomy around the wide part of the foot than I'm used to, but better than many makes that tend to be tight around there. The shoes are crisp white, with a carbon sole, and gold accents. They look very cool. One thing stood out, they are extremely light. So light that I almost threw them out with the box! No kidding.
I took them for a few short spins to make sure they fit well, that the cleats were well adjusted, and that they wouldn't start hurting after 20 miles. They felt great, so great in fact, that I forgot that I was wearing them.
Then I headed in to the mountains for a 60 mile out and back from Marion to the top of Mt Mitchell and back. Almost the whole outbound leg is uphill, the return is a descender's dream, and a thrill. I was prepared for a little bit of discomfort, especially given the fact that I would be climbing for over 2 hrs, but there was none. I completely forgot about monitoring the state of my feet and the performance of the shoe, instead I was captivated by the beautiful Blue Ridge Parkway and the views down on to the foothills below. And, it must be said, I was well engrossed in the suffering inherent in a sustained climb of 25 miles.
The Bontrager RXL shoe performed admirably. It was comfortable, stiff, secure and airy, allowing a liberal amounts of air to flow through and keep my feet cool. They felt good on the climbs when I was seated, and they felt firm and secure under out of the saddle accelerations and sprints. The shoes close snug where it counts, but leave ample room around the box area so your foot never feels cramped. With custom e-sole foot beds, you can get them to fit even better.
On the downside, these shoes look great new, but after a bit of real world immersion, they can start to look grubby. Clean them regularly and use your old ones when it rains, and the these brilliant white head-turners will last a lot longer.
On the whole, the Bontrager RXL shoes are right up there with the best.