So you rode 20 miles today, congratulations. But what kind of workout did your upper body get? Well if you rode a traditional bike… not much. But if you hammered on one of the bikes below, it would be a different story.  Meet the new full body workout bikes.
Varibike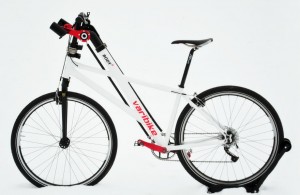 The Varibike has a hand pedaling system in addition to the pedals, so you can help your legs and workout your upper body at the same time.
Varibike cites a study claiming a 31% increase in power:
A study of the New Mexico State University showed that (at the same heart rate) the maximum power output could be increased by over 30% using combined arm-and-leg cranking compared with normal cycling. Furthermore, the endurance performance was found to be higher.
The Varibike comes in an outdoor model and an indoor model, so you can do a whole body ride year round.
 4 Strike Bike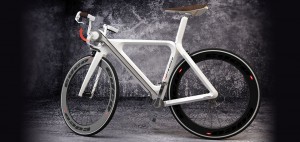 A similar bike is the 4 Strike Bike, invented by a retired surgeon, Lex van Stekelenburg. Here's how it works:
The handlebar contains a patented mechanism that allows upper body 'pedalling' and steering to be combined. The front drive system also incorporates a steering stabilizing mechanism. The crankshaft has a special freewheel system that allows the bike to be cycled with both arms and legs or with the legs alone while getting on and off the bike. The handlebar also features a click system that allows the 'hand-pedals' to be fixed in their highest position during cycling as in a normal handlebar, transforming this bike back into a regular bike. This ordinary bicycle function is the basis of the 4 Strike Bike.
Raxibo
And if you can't wait to get your hands on one of these, well the Raxibo is available now for 2,500 swiss francs (about $2,600 USD). It's not as elegant or as cool looking as the 4 Strike, but there's something to be said for existing versus non-existing.