Here at Velo Logic, we love creative thinking that the shatters preconceived notions of how a traditional component works or looks.
Today, here's a quick look at a fresh new conception of the drivetrain.
We've seen chains, we've seen belts, we've seen direct drive, but we've never seen a string drive.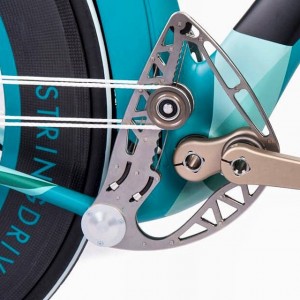 What are the Advantages of the Stringbike?
Well here's what they say on the Stringbike site, and I quote:
Silky smooth and almost silent riding experience
Less maintenance, fewer parts to malfunction, long-lasting high efficiency
No loose, broken, lost or rattling chains
No lubrication, oil, rust or dirty hands – clean bike, clean hands, clean clothes, clean environment
No chance of derailleurs going wrong and needing servicing
No costly chain and drive-system maintenance
Fewer bike parts exposed to possible damage while riding
Noticeably easier to climb uphill than with conventional bikes thanks to special riding characteristics of the drive
Almost continuous shifting through 19 gears, easily controlled by a single handle grip
Quick and easy removal of the rear wheel makes fixing flat tyres clean and hassle-free
The strings can be changed easily, without any tools in few minutes.
Bicycle Racing Poster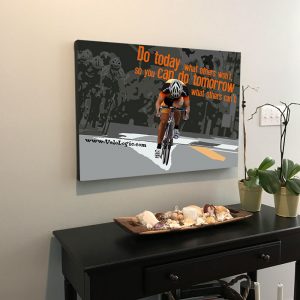 Off the Front - beautiful cycling poster on wooden panel. This is a unique work of art, with an original graphic design,  printed on superior quality birch wood. Choose from 10 sizes and create a statement piece that's perfect for your office or your home. Ready to stand, or hang.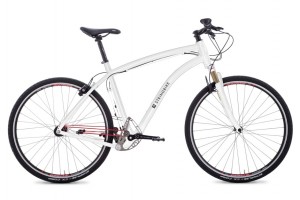 No doubt it's clever, unusual, creative, and it has some advantages… but I'd like to see a side-by-side comparison in terms of speed and efficiency, something like the results of riding traditional vs stringbike in a few 10-40 km time trials.
Nevertheless, interesting concept! What do you think?