In the years after World War II and unlikely sport arose from the ashes of London's bomb sites, cycle speedway.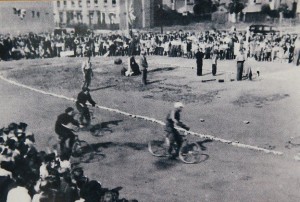 Kids from as young as 13 put London's many bomb sites to productive use by turning them into speedway tracks and racing their bicycles around them.
Well I use the word "bicycles" but according to reports, most of these bicycles were not roadworthy, and many were homemade, sporting old wheels and frames, and bent gas piping for handlebars.
That did not stop the "skid kids," who blasted around the dirt tracks dreaming of one day racing real speedway.
Cycle Speedway Boom in Postwar London
According to Wikipedia, the sport actually goes back to 1920s, but it really took off in London in 1945 with the abundance of bomb sites providing dirt tracks for the city's daring youth.
Intercity tournaments commenced in 1946, and in 1950 the international clash between England and the Netherlands drew 10,000 spectators.
In it's heyday in 1950, there were over 200 teams in East London alone. The total number of racers across the country is estimated at between 30,000 and100,000.
This emerging sport was a significant milestone in history, according to sports historian Simon Inglis:
"It was the birth of youth culture that hadn't existed before, which enabled kids to have a completely separate identity to their parents for the first time – cycle speedway was something that no adult did."
After 1950, the bomb sites were cleared and the sport declined rapidly, going back to it's local roots at a few scattered tracks around the country, but essentially fading into obscurity.
BBC Magazine has an interesting article on the sport with comments from some of the original racers, one of whom at 84 is still racing his bicycle today (on the road).
Cycle Speedway is still going today in the UK, administered by British Cycling, and it is practiced in Europe and the United States.
Sources: Wikipedia, BBC Magazine