Pro mountain biker, Rebecca Rusch, and adventurer, Patrick Sweeney, rode up African's highest mountain, Kilimanjaro… and then rode down.
Okay, rode up is not quite true. They rode as much as they could, and dragged their bikes and gear over the really tough parts.
The rough terrain and steep incline are only part of the problem. At over 19,000 ft, your lungs will be burning and you'll be gasping for air like a guppy out of water.
The pair did the ride in support of World Bicycle Relief, an organization dedicated to mobilizing people by providing bicycles to people without transport.
You might also like…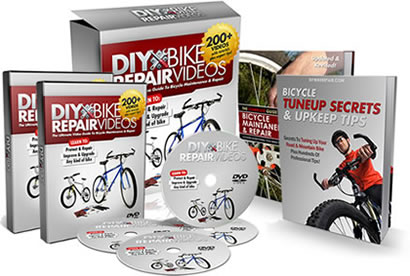 Whether you want to learn more about your bike, feel confident on the road, save money, or you're considering becoming a pro bike mechanic, this bicycle repair course has got you covered.
Taught by pro bike mechanics and packed with insider shortcuts and tips, it covers everything from minor repairs to the heavy stuff... and makes it easy to follow along, step-by-step, so you're never confused or wondering what to do next.
If you want to have an entire video encyclopedia of bicycle repairs at your fingertips, that covers you in every situation, then this package is worth a close look.
"Much easier to follow than a book, comprehensive, and loaded with insider tips and shortcuts... these DVDs belong on every cyclist's bookshelf." -Velo Logic
Learn more about the DIY Bike Repair Course