Martyn Ashton, star of the incredible road bike trick videos, is at it again. This time on a mountain bike. The remarkable thing is Ashton is paralyzed from the waist down. He was injured in a ride that went wrong when he fell off a 9 ft high bar in 2013 and injured his spine.
About his recent downhill challenge, Ashton said:
"I never really thought, 'I'm never going to ride my bike again.' I was just thinking: how am I going to ride my bike again? I don't like to think about what I can't do, but what I can do."
Ashton rode a specially modified mountain bike, with a ski seat and an electric motor to keep him moving at critical parts of the course.
Martyn Ashton Back on a Bike
Just four months after his tragic crash, Ashton was back on a bike, this time a hand cycle.
Read about Martyn Ashton's incredible career.
You might also like…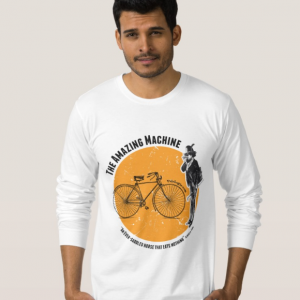 Unique and Cool Gifts for Cyclists
A collection of unique gift ideas for the cyclist in your life, sure to amuse, entertain and thrill. These are gifts that will remind them of their passion and of you for years to come.
Read: Gift Ideas for Cyclists