We've all had it at some time, pain. And I don't mean the sweet pain of going full gas, I mean the niggling, sometimes agonizing pain of a poor fit or misalignment.
Usually new cyclists are the most vulnerable, as they tend to go looking for a bike and either buy it used, regardless of size, or who buy their bikes from a clueless shop assistant who just wants to make a sale.
I bought my first bike from a very reputable local bike shop. The only adjustment they made was the seat height, but the bars were too narrow, the stem was too long, and due to the slightly awkward reach, my back and shoulders hurt. I just thought that was normal.
Bicycle Racing Poster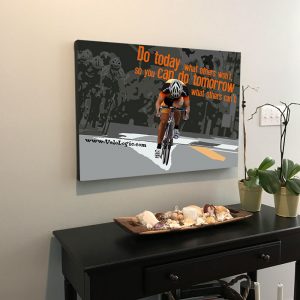 Off the Front - beautiful cycling poster on wooden panel. This is a unique work of art, with an original graphic design,  printed on superior quality birch wood. Choose from 10 sizes and create a statement piece that's perfect for your office or your home. Ready to stand, or hang.
It was a year later that I was fortunate to meet pro mechanic who ran a bike shop who measured and fitted me to a new bike…. and suddenly I was one with the machine and my cycling experience was completely transformed. Cycling became painless and a pleasure.
My go-to guy won't sell you a bike until after he's measured you. Then he'll recommend a make and model based on your measurements and your style of riding. Then he'll fit you on your new bike on a raised trainer and tweak everything while you ride. He'll shim your shoes if you need it. The bike will be truly yours, it will fit like a glove.
Never underestimate the power of a good fit. It can optimize your power output, your aerodynamics and your comfort.
If things don't feel quite right on your bike, I recommend getting fitted by a pro. But sometimes you can tweak just one thing on your bike and eliminate that nagging pain or discomfort. This guide shows you what to look for.
Common Cycling Injuries and How to Fix (and Prevent) Them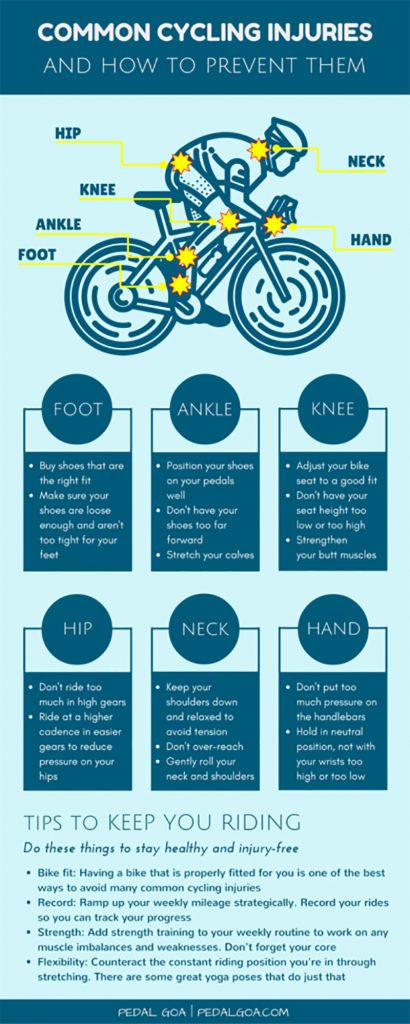 You may also like…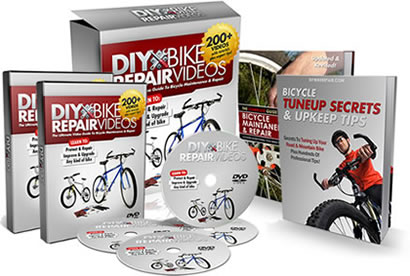 Whether you want to learn more about your bike, feel confident on the road, save money, or you're considering becoming a pro bike mechanic, this bicycle repair course has got you covered.
Taught by pro bike mechanics and packed with insider shortcuts and tips, it covers everything from minor repairs to the heavy stuff... and makes it easy to follow along, step-by-step, so you're never confused or wondering what to do next.
If you want to have an entire video encyclopedia of bicycle repairs at your fingertips, that covers you in every situation, then this package is worth a close look.
"Much easier to follow than a book, comprehensive, and loaded with insider tips and shortcuts... these DVDs belong on every cyclist's bookshelf." -Velo Logic
Learn more about the DIY Bike Repair Course