With two laps to go and the field stringing out under the pressure of riders trying to break off the front, he got the saddle and sprinted past the lead rider and out into the wall of wind…
He glanced back and saw no one had followed his attack. He slid back into the saddle, put his head down, knowing what had to be done.
He came out the last corner and glanced under his arm to see a gray bubbling blur, the field bunched behind him. He tucked down low and drove it to the finish line, legs and lungs burning…
Success soothes everything.
Nothing quite drives home an idea as quickly and as powerfully as visual art.  Off the Front is a striking and inspiring piece of art encapsulating the "secret" of success in cycling and in life.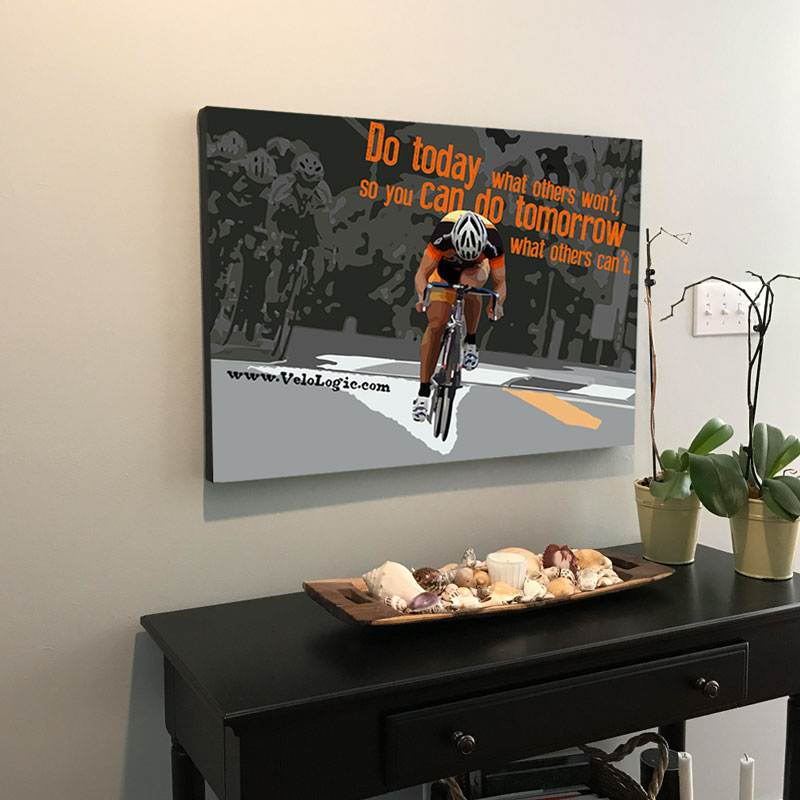 Soak in success every day…
Off the Front adorns your space with beauty, creating an environment of success.
Enjoy motivation and inspiration every day
A constant reminder of what is important
Beautifies your office and your home
A great conversation piece
Likely to make your fellow cyclists jealous
Each piece is printed on natural birch wood, giving each a unique and subtle wood grain texture.
Beauty of birch wood
Natural wood shows through on light areas
Includes anchors, screws and table stands so you can put it on display immediately
Check it out: Off the Front