A new cycling tee shirt design from Velo Logic
The Monarch Model No. 10 bicycle was a steel-framed beauty with wooden rims, weighing in at 22 lbs. It was built by the Monarch Cycle Manufacturing Company in late 19th century Chicago.
Here at Velo Logic we love vintage and natural, and the No. 10 was both: built in 1894 of all natural steel, wood, rubber, and leather.
Velo Logic's latest tee shirt design pays homage to this bicycle of a bygone era. The subtle earthy colors complement the natural cotton shirt. With the design on the front and the back, you get double the cool.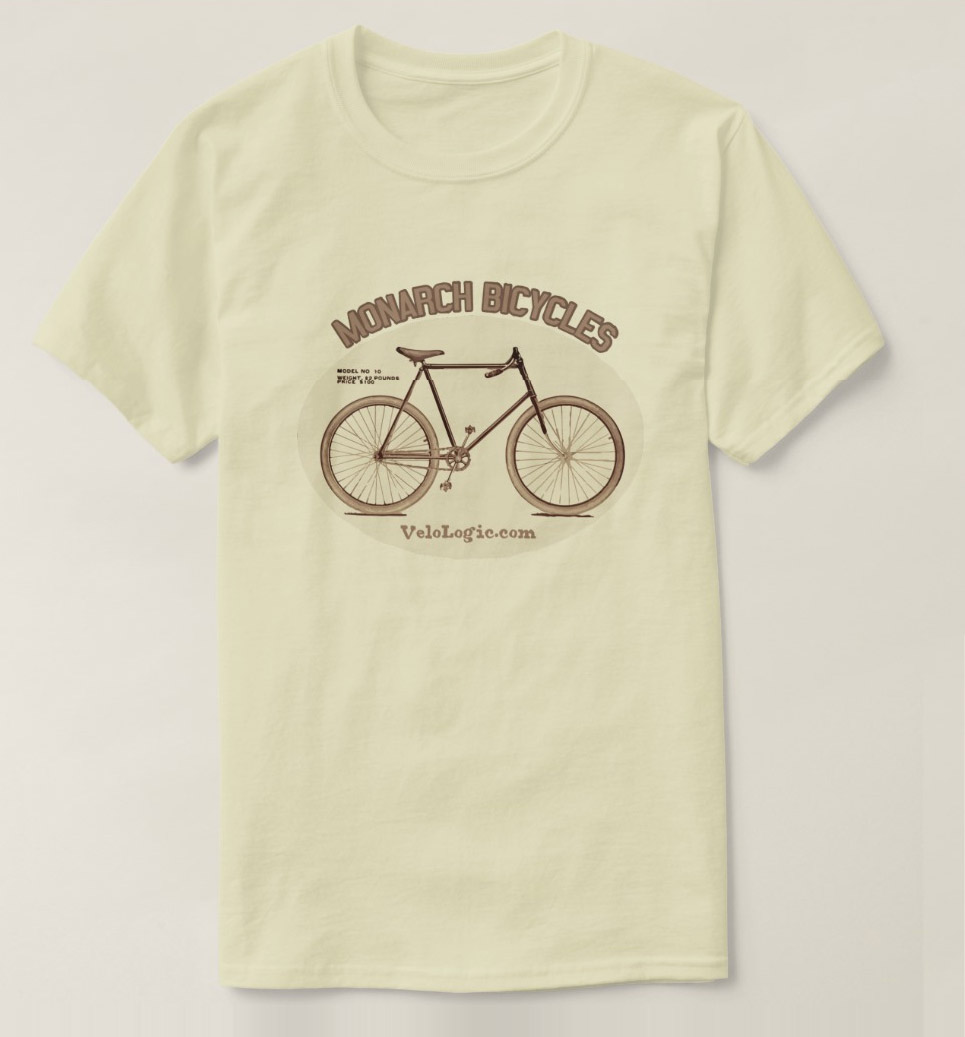 Get your summer kick back gear here:
https://www.zazzle.com/z/y8a7l?rf=238429190391645040
Ladies Tank Dress
Why should guys have all the fun? Velo Logic's designs look even better on ladies apparel. Check out the ladies jersey tank dress with "Monarch".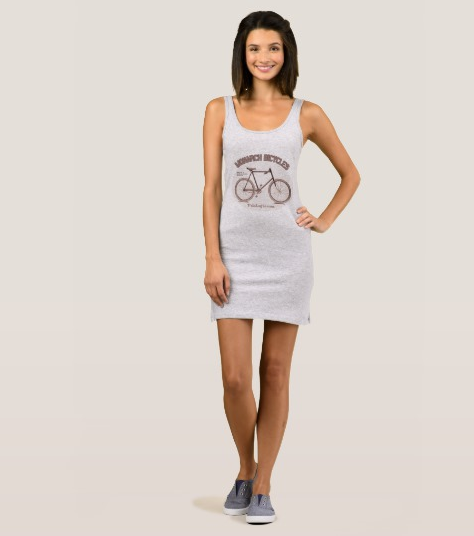 Vintage Cycling Tee Shirt
Monarch Cycle Manufacturer
Monarch Cycle Mfg rose to become a prominent bicycle maker in the late nineteenth century. Here's a bit of their history…
In 1889 John William Kiser, resigned went to Chicago, Ill., and became a manager at the Chicago Sewing Machine Company.
Kiser was practically without funds when arriving in Chicago, but with the energy of a young farmer and the brains of a captain of industry, he took advantage of the opportunities that confronted him and through untiring efforts, within a few years, he had accumulated a large fortune.
Out of the sewing-machine company came the Monarch Cycle Manufacturing Company, which was organized by Mr. Kiser in 1892 with a capitalization of $500,000. He was the president and majority stockholder. He seized the wonderful opportunity offered by the bicycle and made this concern one of the strongest in the field.
In 1899 Mr. Kiser sold the Monarch Cycle Manufacturing Company to the "Bicycle Trust," and in so doing displayed that fine judgment which has crowned all his business ventures with such phenomenal success, for very shortly the crash came. He saw that the automobile would soon succeed the bicycle in popular esteem and so conserved his resources at the outset.
Source: https://chicagology.com/cycling/monarch/
Kiser was obviously a smart man who anticipated the car and got out at just the right time. Of course, after the auto craze tapered off, bicycles did make a comeback, but not to the heights of their previous glory.